'Sneaky Deep' International playtime! Playing together across the distances
InterPlay Europe Zoom Gatherings
2nd TUESDAYS
Mairi Campbell
,
Meg MacLeod
,
Gabriele Panning
,
Annegret Zander
,
Sophie Schultze-Allen
,
Masankho Banda
,
Outi Ruohola
,
Bernhard Staudt
, and
Bobbie Stormont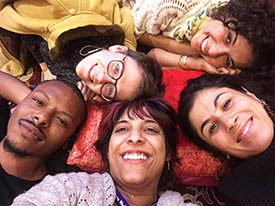 ONLINE
18..45 Central Europe time. 9.45am Pacific time. 12.45pm USA EST.
All classes led in English by European InterPlay leaders or emerging leaders.
So far we've had folks from Scotland, South Africa, England, Germany, Malawi, the USA, Netherlands and Finland. People are often surprised at how lighthearted and deep one can go with InterPlay online.

Tuesdays (unless otherwise noted, 18.45 CET // 17.45 UK // 12.45pm EST-USA // 9.45am PST-USA

YEAR 2021
• Jan. 12, Bernhard Staudt, Germany.
• Feb 9, Annegret Zander, Germany.
• Mar. 9, Outi Ruohola, Finland.
• April 13, Bobbie Stormont, UK & Meg MacLeod, Netherlands.
• 11 May with Sophie Schultz-Allen of Germany
• 8 June with Meg MacLeod of the Netherlands
• 13 July with Ade Anifowose of the England / Nigeria
• 10 August with Masankho Banda of Malawi
• 14 September with Masankho Banda of Malawi
• 12 October with Outi Ruohola of Finland
• 9 November with Mairi Campbell of Scotland
• 14 December with Gabriele Panning of Germany

TIPS
Come in a few minutes early to make sure you can be seen and heard, etc.
Close other programs on your computer before logging in, it'll be a lot less glitchy.
Set up computer so a light is in front, not behind you
When you're not speaking, put your microphone on mute

If you are using Zoom for the first time, allow a few minutes beforehand to download zoom if needed and to follow instructions.
Cost:

You can pay what you are able. Donations of 5 - 20 support the leader& InterPlay's work for a playful and just world.
Registration/Information:

For info or to receive the zoom link, email breathe4ease AT outlook DOT com

Leaders

Mairi Campbell

I'm a musician, performer and facilitator based in Scotland. I make concerts and music theatre shows - the latest is called 'Mairi Campbell - Pulse'. I first came across InterPlay on a recommendation and realised it was doing exactly what I wanted to be doing! I wanted to see how it would translate into Scottish culture so organised many InterPlay events in Scotland mainly and invited leaders from the US and Europe. I became a certified leader in 2016. I have found interplay very helpful both professionally and personally.

Meg MacLeod


Meg MacLeod has been leading InterPlay classes and workshops since 1998: in the USA, the Netherlands, Scotland, Germany and Switzerland, in on-going classes, school teachers trainings, camp counselors, university dance and drama students, and at birthdays community celebrations, and conferences. She has directed and performed in numerous choreographed and InterPlay (improvisational) concerts.

Earlier years.
As a school teacher she regularly directed performances starring the children or brought her musician friends to her school to perform for the kids. In the mid- late-80s as an artist-in-residence, she developed and solo-performed five interactive concerts using music, stories and dance/movement to teach social studies and ecology in 24 US states, Germany and the UK.

As a community activist for Walkable Communities in the 90s she produced several highly successful conferences and two organizations until becoming physically and emotionally 'burned-out'. She credits recovery of her senses and health to InterPlay, the Work of Byron Katie and the 12-step Workaholics Anonymous Program, and loves to share the playfulness and trust in her intuition and in life she has recovered.
Current passions are song-writing, InterPlaying, working the 12-steps and becoming fluent in the Dutch language.

Annegret Zander

Annegret got into InterPlay in 1992 as an international student of "Dance and Theology" at PSR, Berkeley, CA. Four years later she was one of the early InterPlay leaders, played ever since. As a Lutheran minister she works in adult education near Frankfurt with focus on people 50 plus. She learned that even ladies in their 80s love a handdance once in a while. One of her favorite forms: fake opera and fake languages with her daughter. She is also a Playing Artist, playing with cross media performance in church (very low-tech) Annegret Zander lernte InterPlay in einem Auslandsjahr in 1992 kennen, ist seit 1996 InterPlay Leader und nutzt die Formen und Prinzipien in ihrer Arbeit als Fachreferentin der Fachstelle Zweite Lebenshälfte in Hanau, Naehe Frankfurt, Pfarrerin, Seelsorgerin, Playing Artist mit Schwerpunkt low rech cross media performance - und das am liebsten als Andacht...

Sophie Schultze-Allen

Sophie Schultze-Allen uses InterPlay to explore the ways in which we can deepen our connection to Earth and build RECIPROCAL, regenerative relationship through unlocking the wisdom already present in each human body. She is currently pursuing a MA in Dance Studies at the Free University Berlin. She has been bringing InterPlay workshops to Berlin communities for the past 3 years. Sophie was born in German and grew up in Berkeley, CA. Anything is possible in the world of improvisation: Every moment becomes a fertile seed capable of shifting the path of humanity. With an open heart, Sophie invites others to build their resiliency to lead with love and compassion through embodied, creative play.

Masankho Banda

Masankho is a multi - disciplinary Performing Artist, Certified InterPlay Leader, Educator and PeaceBuilder. He brings many unique perspectives to his work around the world. He learned the fine arts of storytelling and dance from his Malawian culture spending many long days and nights listening to stories and dancing to music that captivated his mind, shaped his being, nourished his soul and strengthened his spirit. Using performing arts Masankho motivates and inspires people of all ages to work together to bring about peace, social justice and cultural understanding. In 1997, he started UCanDanc—African Healing Arts to bring his passion for dance and storytelling to communities around the world. Masankho has been a Certified InterPlay Leader since 1999.

Masankho can also be reached at these phone numbers: +265 99 255 5338 or 88 113 8655 (available on Whatsapp / FaceTime)

Also: Skype : kamsisi
Facebook / Twitter: storytelling4u

Bernhard Staudt

Bernhard Staudt offers classes and events. He also plays theatre for children: theater herszstueck. www.theater-hersztueck.de