Join Randy & Phil to Tell Your Own Stories
Big Body Stories
Small groups where everyone gets a turn to tell a story
Randy Newswanger
and
Phil Porter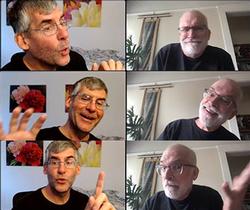 ONLINE
Various times • See link to dates below
Check out new dates & times for November & December 2023 here!
InterPlay leaders and storytellers Randy Newswanger and Phil Porter are creating opportunities for InterPlayers to tell Big Body Stories online. Each session, offered at a variety of times and days, will be limited to five other participants. Each person will have 5 minutes to tell a story to the whole group.
We will also be spending some time warming up and telling stories back and forth with a partner in breakout rooms. The bulk of the time, however, will be to devoted to individual stories. Although we won't be focusing on storytelling technique, we're finding that we are all learning from each other as we tell stories.
This class is intended for InterPlayers who are already familiar with these more advanced forms. We will not be reviewing the incremental steps that lead to them. If you're ready to dive in, though, regardless of your level of experience, please join us!
The sessions last an hour and a half.
Participants must sign up in advance for a slot using this SignUpGenius registration process. The class fee is $20-30 sliding scale. You may use several slots on a multiple-class card if you choose. Make sure you have registered for a slot before you pay.
Here is the sign up for remaining classes in October 2023...
Pay in advance online using PayPal or a credit card.
Cost:

$20-30 sliding scale or use a couple of classes on your multiple-class card. $130 for the 4-week series.
Registration/Information:

Use the SignUp Genius links to register. Use the payment links above to pay for the class or the series.

Leaders

Randy Newswanger

Randy has degrees in physics and divinity. His experience includes teaching high school math and physics, working in philanthropy, and turning doodles into fine art prints. He desires to build just and sustainable communities, is exploring forest gardening, and tries to incorporate InterPlay philosophy as a core decision making tool in his life.

Phil Porter

Phil is one of the founders of InterPlay. He is a teacher, performer, writer, and organizer. With Cynthia Winton-Henry he is the co-founder of WING IT! Performance Ensemble, and has written several books, some in collaboration with Cynthia, including Having It All: Body, Mind, Heart & Spirit Together Again at Last and The Slightly Mad Rantings of a Body Intellectual Part One. Phil is particularly interested in the use of InterPlay in organizational life, and believes that InterPlay can be a powerful tool to create communities of diversity and peace.