Connect with the exciting range of international InterPlay Leaders
Side-by-Side International Leaders Gathering 2020
Especially organized for InterPlay leaders in the Eastern Hemisphere
Vibhuti Aggarwal
,
Masankho Banda
,
Sukhmani Kohli
,
Trish Watts
, and
Ade Anifowose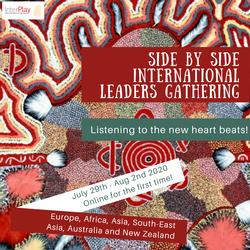 Online, ONLINE
Wed July 29 – Sun Aug 2, 2020 • See times below
Join us for the first Side-by-Side International Leaders Gathering. This new online event will be held on the same days as the 2020 Leaders Gathering based in Western Hemisphere time zones. We will be organized around time zones in the Eastern Hemisphere so that we can experience the magic of InterPlay at times that are convenient to the wide array of InterPlay leaders in Asia, South Asia, Africa, Australia, New Zealand, and Europe.
Each day we learn more and more about Zoom possibilities and how we can have InterPlay online in a body-wise way. This year's Gathering will be cheaper, easier to get to, and will allow a wider range of folks to attend. You can pick and choose the time slots that work best for you and match your "Zoom attention span."
We will have whole group sessions, opportunities to move together in large and small groups, a whole range of informative, interesting, and playful workshops, and wonderful opportunities to see old friends and make new ones. This will also be an opportunity for Leaders from different countries to come together and share how we have been adapting InterPlay to our local cultural contexts.
We envision this event to forge friendships uniting us across cultures through InterPlay. We also hope to invite the new world taking birth through all these massive shifts be able to listen to the new heart beats. This event will also be the "big finish" to our year-long celebration of InterPlay's 30th year.
Dates: 29th July to 2nd August,2020
Days: Wednesday to Sunday
GMT(UK Timings)
Wed-Sat: 8 am – 12 pm (noon)
Sun: 8–10 am
India
Wed-Sat: 12.30–4.30 pm
Sun- 12.30–2.30 pm
Malawi/Germany
Wed-Sat: 9 am – 1 pm
Sun: 9–11 am
Australia
Wed-Sat: 5–9 pm
Sun: 5–7 pm
Tuition and Payment Plans
This event is open to all Life Practice Program and Leader Training Program grads as well as those currently taking part in either program (or who took part in earlier versions of either program). Art & Social Change grads are also welcome to attend.
Register early and save $25!
Tuition is $150 on or before July 24. $175 after that. Reduced tuition is available as well as payment plans. For alternate payment plans, contact Sukhmani at sukhmani.kohli@gmail.com or Stephanie at info@interplay.org to make arrangements.
Leaders who offer a workshop will receive an additional $50 off tuition if you submit your workshop by July 24.
Cost:

$150 by July 12/$175 after that. $50 off if you offer a workshop. No one turned away for lack of funds.
Registration/Information:

Use the PayPal button above to register using PayPal or credit card. To make alternate payment arrangements contact Sukhmani or Stephanie (see above)