Deep Play - Transformation thru Expression
Connect~Create~Express~Transform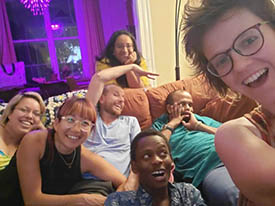 ONLINE
Currently intermittent schedule, usually Saturdays from, 10:00 am til 12:00 noon eastern time - email Lee @ Leeriver@umich.edu to confirm the date for the next event & get the zoom link
Join Lee online for her regular monthly playgroup, and experience the power of InterPlay to foster self-exploration, authentic creative expression, and meaningful community connection. Replenish and nourish h yourself by diving into your stories, songs, and movement in an awesome community of creative explorers. Join us for a wonderful time of self-expression that can range from playful to profound, and see where it takes you! Each event is structured around a specific theme that we will explore.
Cost:

$10-$20 suggested donation, Paypal to Leeriver@umich.edu or Venmo to @Leeriver
Registration/Information:

To get the zoom link, email Lee at: Leeriver@umich.edu

Leaders

Lee Edwards

Lee Edwards is a Body-Mind Therapist, Certified InterPlay Leader, and a Life Practice Program Leader, and she leads in-person and online workshops in a range of creative and transformational topics. Lee's journey with InterPlay started in 2008, and she's been leading InterPlay since 2016, and became a Life Practice Program leader in 2020. In addition to running a therapy practice, Lee loves using creative expression, drama, and movement for self-exploration and personal growth, as well as for the joy and fun of it, and she deeply appreciates how InterPlay weaves together many of these threads. Lee lives in Traverse City, but has been leading InterPlay across Michigan, helping to seed communities in various locations, including Traverse City, Ann Arbor, Charlevoix, Petoskey, and Detroit. If you'd like to have InterPlay come to your community, please reach out!