Hanging it All !
Peace in the Storm - Exploring Ease in the Four Movement Patterns
Randy Newswanger
and
Lee Edwards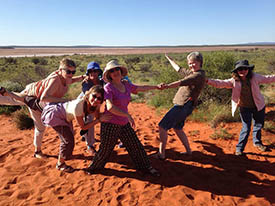 ONLINE
4 Tuesday Evenings in February (Feb. 2,9,16,23): 7 p.m. - 8:30 Eastern Time (4 p.m. Pacific)
Do you push to make things happen and end up exhausted? Do you love to connect but find yourself scattered? Do you arrange everything but get too rigid? Do you hang out and never do anything?

These questions point to four ways to engage with life: thrust, swing, shape, and hang. These four movement patterns provide opportunities and challenges.

In this short course we will explore our innate tendencies with an emphasis on how easy focus and the wisdom of hangers can lighten and inform how we move in the world.

We may wonder if there's time for this, when so much change is necessary in the world. Rebecca Parker suggests we need time to engage with the world, learn from the margins, have a community of support for reflection, and time to restore our souls. In this class you may learn, teach, reflect, grow, and become more effective in caring for yourself and impacting our communities.

We will play with ideas of success, satisfaction, effort, and ease. We will imagine rolling rocks uphill, downhill, and on the level, along with flowing, evaporating, and washing away. We won't ask you to change. You don't have to change. But if we play around with these ideas, something surprising might happen.

We will use the InterPlay tools of easy focus, exformation, body data, and inner authority. We'll play with warm-up, babbling, dance-talk, and some combinations of hang-thrust, hang-swing, and hang-shape, along with others that we are still improvising.

No InterPlay experience is necessary. If you're jumping in for the first time, tiptoe or splash!

Come join the exploration!

Cost:

$30 - $90 sliding scale for entire series
Registration/Information:

To register: email randnews@outlook.com

Leaders

Randy Newswanger

Randy has degrees in physics and divinity. His experience includes teaching high school math and physics, working in philanthropy, and turning doodles into fine art prints. He desires to build just and sustainable communities, is exploring forest gardening, and tries to incorporate InterPlay philosophy as a core decision making tool in his life.

Lee Edwards

Lee Edwards is a Body-Mind Therapist, teacher, and workshop leader. Lee's journey with InterPlay started in 2008, and she's been leading InterPlay since 2016. In addition to running a therapy practice in Traverse City, Lee loves using creative expression, drama, and movement for self-exploration and personal growth, as well as for the joy and fun of it, and she deeply appreciates how InterPlay weaves together many of these threads into one cohesive system. Lee lives in Traverse City, but has been leading InterPlay across Michigan, helping to seed communities in various locations, including Traverse City, Ann Arbor, Charlevoix, Petoskey, and Detroit. If you'd like to have InterPlay come to your community in Michigan, please reach out so we can try to schedule something for you!