Letting Life Unfold in the Moment
Finding Your Flow: iRest Meditation and InterPlay for Creative Expression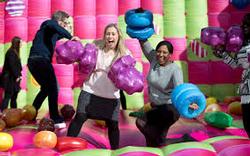 ONLINE
Four Saturday Workshops Jan 9, 16, 23, & 30, 2021 at 4-5:30PM EST (no partial registration)
In truly creative moments, everything takes place without the 'I' interfering. Things occur of their own accord. ~Jean Klein iRest Meditation is based on the theory of nondualism, which illuminates that life happens through us, not by us. Awakening to this perspective can be revolutionary and liberate us from conditioning that limits our thoughts, viewpoints, and abilities. As we practice opening to the divine flow of life, we begin to see our problems in new light, recognizing innovative solutions and delighting in new possibilities. Our creative capacity expands. In this experiential livestreamed workshop, iRest Certified Teacher and InterPlay Certified Leader Robin Carnes leads lively exercises designed to help you access your creativity and freely open to the everpresent flow of life. Techniques and approaches will include: iRest Meditation: This evidence-based approach to guided meditation opens the flow of energy and leads the practitioner to self-healing. We will practice iRest both "off the mat" and in traditional guided practices. InterPlay™: This fun, easy, system of movement and sound exercises is designed to unlock the body's wisdom. Art: Robin will facilitate a variety of process-oriented (rather than outcome-oriented) art experiences using simple materials. If you feel stuck in a rut or just want to nourish your innate creativity, this workshop is for you. Step out of your routine and into a greater sense of vitality and possibility. And have fun! No experience necessary to join in!
Cost:

$295
Registration/Information:

Robin Carnes at rdcarnes@gmail.com

Leaders

Robin Carnes

Robin Carnes, MBA, Certified Yoga Therapist, is a Certified InterPlay Leader. She loves weaving InterPlay forms and principles into her work with a wide range of populations. Robin is a pioneer in bringing evidence -based yoga and meditation practice into mainstream settings such as the US Department of Defense, the Veterans Administration, Manhattan College, and Blackboard, Inc. Robin trains healthcare providers in using mind-body tools in their work with patients and has lectured internationally on Mind-Body approaches to mental health and stress conditions. In addition to her work with the military, Robin has offered Yoga Rhythmics and InterPlay workshops, classes, and retreats for many years, combining music and movement to create community and cultivate self-love.