Paths to Inspiration – Writing & InterPlay
Using InterPlay forms to inspire & generate writing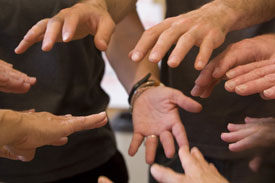 Online, ONLINE
Sunday May 16, 2021 from 11am - 2pm ET (8am - 11am PT)
To officially register, click this link: Paths to Inspiration Registration
Writers sometimes experience "dry times" when inspiration is hard to come by, or it is difficult to put words on the page. Sometimes, dabbling in other artistic forms can be just the creative jump start we need. Writing can also sometimes feel like lonely work, and it can be fun to be inspired by others' creations.
Interplay's powerful mixture of movement, story, sound, stillness, and collaborative creation offers a wonderful forum to experiment with new paths to inspiration for your writing, while simultaneously connecting with others in fun and meaningful ways.
Whether you are a seasoned writer seeking inspiration or someone who is dabbling in creative writing, this event will be a time for you to pay attention to how you find inspiration, and give you tools you can use on your own when you're seeking ways to jump start your creativity.
During this event, we will focus on generative writing from a variety of impulses (music, movement, mark making, images). There will be time for self-exploration, creative expression, writing, and meaningful connection to your own creativity and that of others.
Schedule
11:00am - 2:00pm ET (8:00am - 11:00am PT)

Cost:

$15 to $45 sliding scale
Registration/Information:

To register and pay, go to this link: https://forms.gle/64amCAro4nsqyFzY6 For questions, email Lee at: leeriver@umich.edu

Leaders

Lee Edwards

Lee Edwards is a Body-Mind Therapist, teacher, and workshop leader. Lee's journey with InterPlay started in 2008, and she's been leading InterPlay since 2016. In addition to running a therapy practice in Traverse City, Lee loves using creative expression, drama, and movement for self-exploration and personal growth, as well as for the joy and fun of it, and she deeply appreciates how InterPlay weaves together many of these threads into one cohesive system. Lee lives in Traverse City, but has been leading InterPlay across Michigan, helping to seed communities in various locations, including Traverse City, Ann Arbor, Charlevoix, Petoskey, and Detroit. If you'd like to have InterPlay come to your community in Michigan, please reach out so we can try to schedule something for you!