A creative exploration of boundaries
Standing on Higher Ground
Discover Your Holy No-s and Yes-es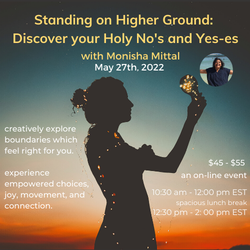 ONLINE
Fri, May 27, 2022 10:30 AM – 2:00 PM EDT
Defining our boundaries in a way that is true to our selves means embracing more freedom and joy. This workshop is based on the premise that when we make choices that are in our Highest, they are in the Highest of all others as well. In this workshop, you will creatively explore Yes's and No's in alignment for you: heart, body and soul. This course uses improvised movement, music, story, meditation and journaling, to help you explore boundaries for an issue or situation causing tension in your life. Lean into the guidance in your body and discover new choices wholy right for you with play, connection, and joy. Find new pathways to feeling empowered, from the inside out. This master class is structured into two 75 minute increments, morning and afternoon, with a spacious 30 minute lunch break in between.
Part I is designed as an easeful introduction to movement as a language, connecting you to your body through play, somatic expression and connection.
Part II builds on these experiences and ventures deeper into the super powers of the body through guided meditation, playing more intentionally with our No's and Yes' and using journal prompts.
For people who are already connected to the wisdom in their bodies, this course will help you harness the powers of your Higher Self. For people who are spiritually awake, this course is designed to connect you with the magic and knowing in your physical body. The morning sets us on an inviting, playful path to somatic expression using movement and story. Following a spacious lunch break, the afternoon session builds on your morning experience allowing to creatively explore experience your true No's and Yes' with inner alignment.
Cost:

$45 - $55 Sliding Scale
Registration/Information:

https://www.eventbrite.com/e/standing-on-higher-ground-discover-your-holy-no-s-and-yes-es-tickets-331114712017?fbclid=IwAR0PKYhT1lBgCPOHmysIVMEgzUD676

Leaders

Monisha Mittal

Monisha is a mystic, a writer and recovering over-achiever. For the last 2 years she has been leading Divine Revelations Dance Chapel under Cynthia Winton-Hentry's Hidden Monastery Chapel. Early in her career, working in rural India and north Philadelphia, she noticed her joy at helping women and children find their individual expression and voice. More than twenty years later, InterPlay came running to meet her when she left her full-time corporate job. Inspired by the freedom, connection and laughter InterPlay has brought to her life and to those it touches, she enjoys connecting people to their Divine power and presence for greater expression and abundance in the world. Monisha is a certified Sacred Depths coach and leads the Hidden Monastery Dance Chapel every Tuesday. Contact her about experiencing your own Holy Play Dates.