New Leaders with old and new offerings -- fresh, full!
PlayFull Pool
Now meeting Wednesdays
Alex Baskin
,
Roberta Kearney
,
Jennie Mulqueen
,
Yura Yasui
, and
CC King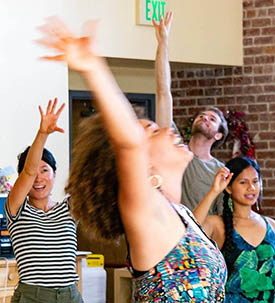 Online, ONLINE
1st and 3rd Wednesdays at 7:30pm ET
We rotate leadership to tap the forms and play from the basics, with the glorious infinite invitations that those treasured thresholds offer. Bring a friend to try on InterPlay. We'll honor the speedbumps, tip toe along with simple story forms and have our Birth Rites of movement, sound, breath, stillness and togetherness. Join newly certified Leaders and practicing LITer's for this playful and poignant pool of newness! Sneaky deep...
Cost:

Free!
Registration/Information:

Alexa at akmwork12@gmail.com OR CC at ccking.interplay@gmail.com

Leaders

CC King

CC King is a certified InterPlay Leader and trainer, Boston-area coordinator and a memory play specialist. She has been practicing the joyous unfolding of Interplay for over 20 years. CC is an expressive therapist, visual artist, teacher and community activist. As the co-founder of a local arts and environment program, she facilitates workshops in organic sculpture and organizes public performance. Play with elders and Memory Cafes are a special interest, as are cancer support and racial healing & transformation. Her background includes nonprofit management, art and family therapy, trauma-informed InterPlay and a life-long commitment to finding sustenance, creative activism, and joy in the natural world.