New Leaders with fresh offerings!
PlayFull Pool
1st & 3rd Tuesdays
Alex Baskin
,
Jennifer Mulqueen
,
Yura Yasui
, and
Alexandra Klein-Mayer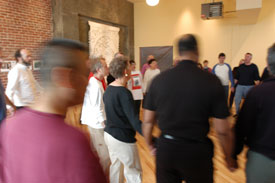 Online, ONLINE
1st & 3rd Tuesdays at 7:30pm ET
We rotate leadership to tap the forms and play from the basics, with the glorious infinite invitations that those treasured thresholds offer. Bring a friend to try on InterPlay. We'll honor the speedbumps, tip toe along with simple story forms and have our Birth Rites of movement, sound, breath, stillness and togetherness. Join newly certified Leaders and practicing LITer's for this playful and poignant pool of newness! Sneaky deep...
Cost:

Free!
Registration/Information:

Alexa at akmwork12@gmail.com OR CC at ccking.interplay@gmail.com

Leaders

Jennifer Mulqueen

Jennie first came to Interplay during her first weeks in seminary at Boston University School of Theology while taking a class on divine embodiment. Jennie believes in the deep spiritual power of play and has been on a journey to discover how play is an essential element of almost any spiritual practice. With a background in music education and performance, Jennie is delighted to integrate play into her work as a chaplain. Currently she is completing a year long chaplaincy residency at Massachusetts General Hospital. www.singingchaplain.org

Yura Yasui

InterPlay and I (by way of self-introduction)

First, InterPlay was a special time for expansive joy. One day, I followed the leading to drop the palm-to-palm connection with a playmate who was standing at the diagonal corner of the room, and we were able to find it again when invited to do so. Palm-to-palm, body-to-body connection exists.

A few years later, I was living in an InterPlay desert. In one of the first online InterPlay classes, unexpectedly, an overwhelming feeling of grief about witnessing and being part of institutional racism surfaced in me. It lives in my body. I live with it. It guides my choices and actions.

During the pandemic isolation in a different location, in an online play, a playmate asked for a dance on behalf of the tropical rainforest that she worked on. In my dance, the rainforest was in my elbow, and I recognized it as I recognized pain in my elbow. My body ails when another being is in ailment.

The dimensions of "me" are unfathomable. My being's boundary is obscure. Through InterPlay, I peek in and out at a world that may be within or outside myself. I live in fullness as I enter the universe of mystery that includes this unknown world.