Harness Rage Energy for Personal Transformation & Social Change
Tending the Fire
Making Inner Peace Possible
Karen Hatch
and
Wai-Chin Matsuoka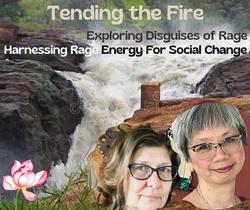 Online, ONLINE
2nd & 4th Wednesdays of Sep, Oct, Nov & Dec 7th, 2022; 3:30-6pm PT/ 5:30-8pm CT/ 6:30-9pm ET
Rage and anger are powerful energies that we've  been socialized to tamp down in many of our cultural contexts.  We may compensate with adaptations that don't serve us in the healthiest most life giving ways.  Join Wai-Chin and Karen as we dive into our Body Wisdom and InterPlay tools to play with and examine our anger and rage.  This course is based on Ruth KIng's wisdom shared in her book, "Healing Rage: (Women) Making Inner Peace Possible."
Few recognize the enormous power of rage as a vehicle for healing, or possess the skillful means to transform rage from a destructive to a life-affirming resource. Rage is fuel, the source of our empowerment. When we embrace this brilliance respectfully, rage teaches us how to live, love and heal.
Financial support for this project has been provided by the Racial Equity and Transformation (RET) Mini Grant through InterPlay.
COST: $350 for 7-session course
Payment: You can pay for each session at a time here, or email Wai-Chin Matsuoka at TheRestingPlace@Ymail.com for other payment methods.
Requirement: Purchase and the book "Healing Rage" by Ruth King
Scholarships: The financial support from the RET Mini Grant through InterPlay enables us to provide scholarships to any Black, Indigenous and People of Color on a first-come-first-serve basis. Please email Wai-Chin Matsuoka at TheRestingPlace@Ymail.com for details and payment.
Financial Assistance:If you are don't qualify for the scholarships but still need financial assistance, please email Wai-Chin Matsuoka at TheRestingPlace@Ymail.com for details. We do not want finances to be a barrier to the opportunity to participate in this course.
For More Details and Registration, CLICK Cost: $350; BIPOC with Scholarships;
Registration/Information: Wai-Chin Matsuoka TheRestingPlace@Ymail.com
Leaders

Karen Hatch

Karen identifies as both a "free agent" and healing justice advocate and wants to play with everyone! With a background in hospice nursing and youth ministry she is dedicated to being present to the unbelievable beauty of being human in all people across the lifespan. She is particularly committed to racial equity and transformation and is an activist, facilitator, community organizer and student at home in rural Virginia and beyond. Karen is a Certified InterPlay leader and singer/songwriter.

Wai-Chin Matsuoka

Wai-Chin is Singaporean Chinese, who was transplanted to the U.S.A. 35 years ago when she came to do her graduate studies, and met her American-Japanese husband.

She's a spiritual director who comes alive whenever there's an opportunity to midwife what's ready to be birthed. She's particularly experienced in bringing forth new life from the ashes of change and transition. Mentored and credentialed as an Ensoulment Coach, and a certified InterPlay leader, Wai-Chin loves to weave spirituality, somatic practices, soul-tending and InterPlay tools and forms into a tapestry of Love and Play. She especially enjoys shaping these tapestries into retreats, ongoing Body Wisdom Playgroup, and soul care workshops specifically for social reform activists.