Come explore your creativity.
InterPlay Lancaster!
Third Saturday morning of the month
Randy Newswanger
and
Juji Woodring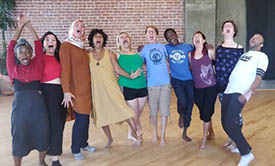 Lancaster, PA
Saturdays: September 17, October 15, November 19, December 17, 10 a.m. to 11:30 a.m.
This is a drop-in class for anyone who is interested in having some fun, finding your creative edges, connecting in a group, and being surprised. We can't really describe what you'll experience, but connection, laughter, surprise and depth are likely.
Cost:

Suggested $10-$15
Registration/Information:

Randy Newswanger: email randnews@gmail.com or text 415596-8180

Leaders

Randy Newswanger

Randy has degrees in physics and divinity. His experience includes teaching high school math and physics, working in philanthropy, and turning doodles into fine art prints. He desires to build just and sustainable communities, is exploring forest gardening, and tries to incorporate InterPlay philosophy as a core decision making tool in his life.